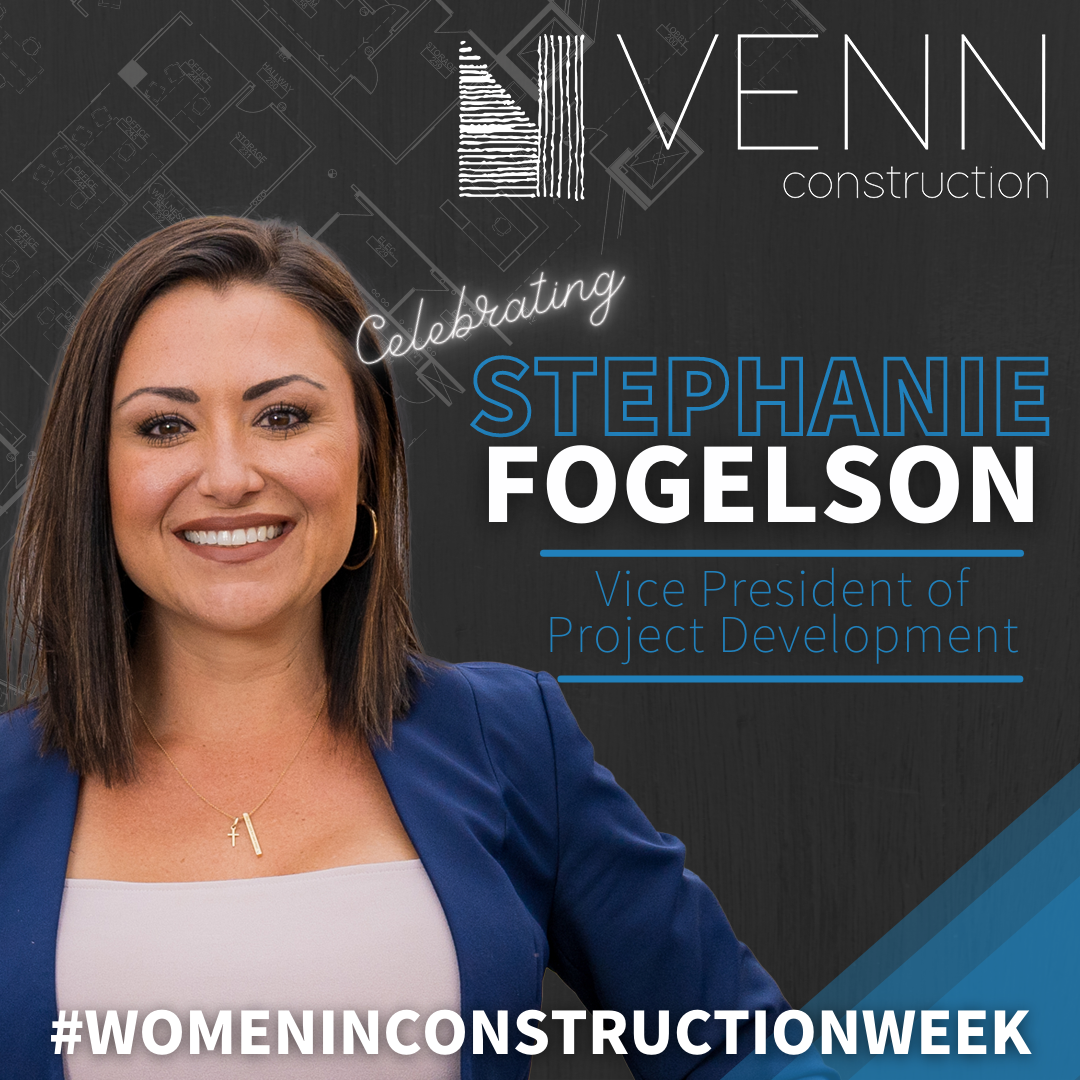 This year's Women in Construction week is all about highlighting women as an essential component of the construction industry. We want to challenge career stereotypes and promote how women lead the way in our industry. To do this we asked the women working at Venn Construction a few questions about their career as commercial construction professionals.
Today we are highlighting Stephanie Fogelson, Vice President and fearless leader of the preconstruction team at Venn.
What is your title and role with Venn Construction (aka – what do you do in a normal month)?
A: I am the Vice President of Project Development. I assist in the growth and strategy of Venn. This can come in the form of new client acquisition, hiring operational staff, or determining if a select client is a good fit for our teams. Whatever Venn needs, I will happily step in…
What companies have you worked for in the past?
A: Cancer Treatment Centers of America, Republic Services, NMSA
What got you involved/interested in working in construction?
A: I wanted to create a healthcare strategy and grow a brand in one of the most challenging markets I had ever seen in 7 years of doing new market entry.
What positions have you previously held?
A: Director of Sales & Strategy, Owner
What professional associations/organizations do you belong to?
A: Fighter Country Partnerships, NMSA, Ignite Yoga Foundation, WESTMARC, Leadership West, NABNE (North American Board of Naturopathic examiners)
What do you like to do for fun?
A: Whatever the boys (my sons) will join me in! Lately, it has been a lot of hiking, pickleball, and sneaking on the golf course to fish.
What is the best part of your job?
A: My people. If you have the chance to work with Venn, you get to have the best group of people for the project's duration.
What is challenging about your job?
A: Pivots happen often and are abrupt. I have a love/hate relationship with the pivots because I love the strategy it requires, but it feels like planning for market conditions, supply chain, interest rates, all while trying to harvest a culture of stability requires more brainpower than I ever thought possible.
What interests you about working in the construction field?
A: The general pace of commercial real estate. There is a heartbeat to it, energy, and the world gets very small, very fast.
What is your advice for other women pursuing a career in construction?
A: Connect with other women in various roles in construction and related fields. Learn as much as you can, and never stop pushing yourself. Women are typicSelect your team exceptionally carefully. The group you choose to join will either be in the trenches with you or be pointing the weapon back at you. I have so many friends who have "picked wrong," and what that means for everyday life is such a tragedy. However, if and when you "pick right," there is nothing more fun and rewarding than this industry.
How can Venn and other companies attract more women to the construction industry?
A: Put diversity into your senior leadership. The next generation of talent will see if you truly value diversity. Hiring a variety of backgrounds who all come with unique perspectives will win the trust of the next generation of builders. If your website and top-level leadership lack diversity across the board, you will really struggle to find highly qualified people.