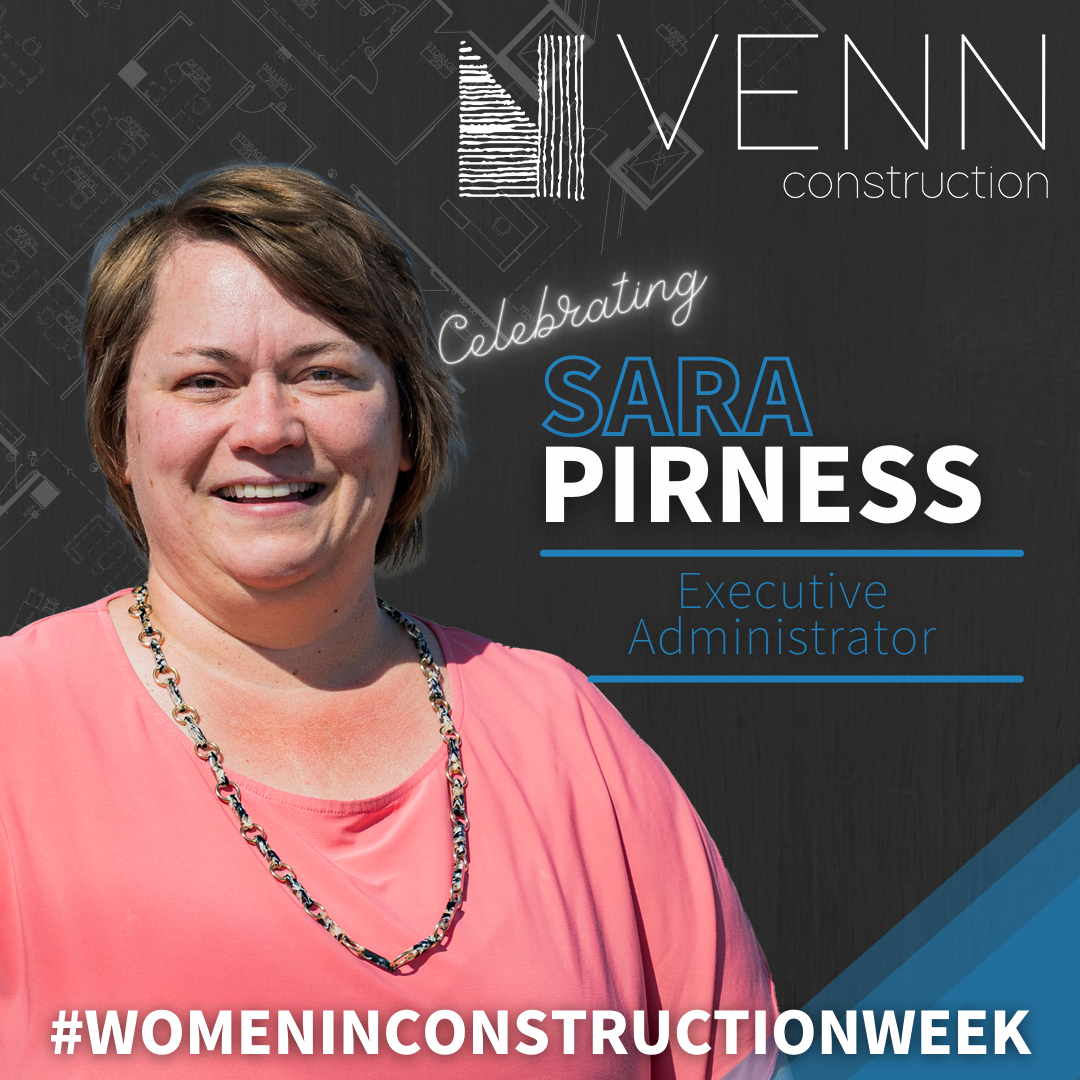 This year's Women in Construction week is all about highlighting women as an essential component of the construction industry. We want to challenge career stereotypes and promote how women lead the way in our industry. To do this we asked the women working at Venn Construction a few questions about their career as commercial construction professionals.
Today we are celebrating Sara Pirness, Venns Executive Administrator. Sara has been with us since the very beginning and has seen it all. She is an industry veteran with decades of knowledge, making her an integral part of the Venn team.
What is your title and role with Venn Construction (aka – what do you do in a normal month)? 
A: I am the Executive Administrator – I manage the essential paperwork and tasks that keep the company running! I also create policies and procedures, Owner billings, and process sub billings.
What companies have you worked for in the past? 
A: I was introduced to the construction world when I worked for TGI Friday's corporate office, Main Street & Main. I have also worked for Simac Construction, Weitz, and RJM before it became Venn!
What got you involved/interested in working in construction?
A: I was assisting in accounts payable at Main Street & Main when a construction clerk position opened up. The construction manager reached out to me to see if I wanted to learn something new, and I leaped at the opportunity!
What positions have you previously held? 
A: Construction Clerk, Project Coordinator, Field Coordinator, Asst Project Engineer, Office Administrator/Manager
What do you like to do for fun?
 A: I like to play piano, Cook, and Plan events.
What is the best part of your job? 
A: The flexibility that Venn offers has allowed me to work from home since our son was born in 2017. Working from home has its own challenges, but we didn't want to put our son Kayson in daycare, and Venn respected and accommodated that decision.
What is challenging about your job? 
A: Coordinating with other team members to complete their end-of-month tasks so I can button things up on my end for Owner billings and subcontractor payments.
What interests you about working in the construction field? 
A: I like to visit projects once they are completed to see the amazing work our subcontractors have done for us.
What is your advice for other women pursuing a career in construction? 
A: The sky is the limit. Follow your passion, and don't be intimidated. It's not a man's world anymore!
How can Venn and other companies attract more women to the construction industry? 
A: Flexibility with working from home. Be clear on expectations, then trust that your employee is doing their job. Don't micro-manage! Equal opportunities/salary based on performance, NEVER gender.