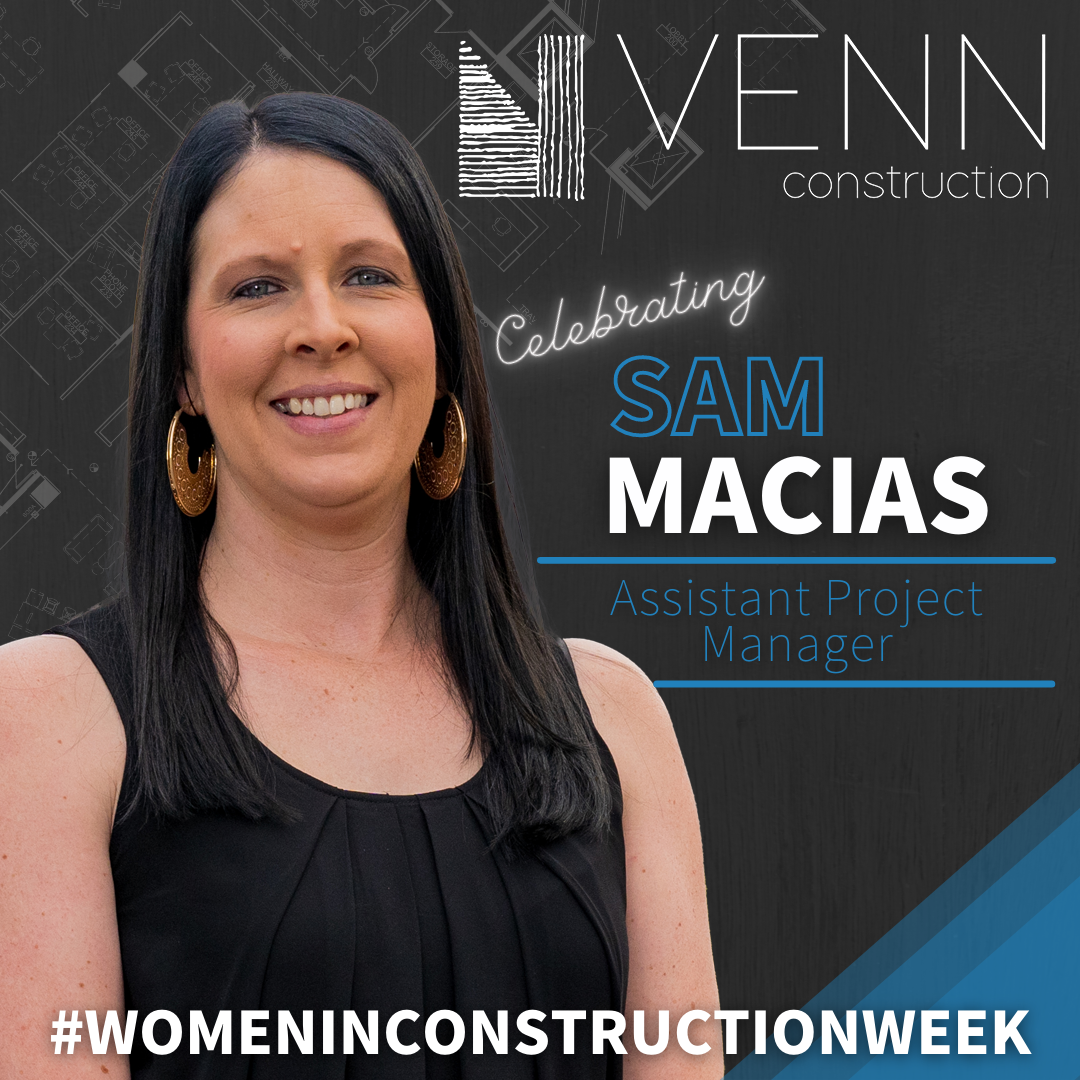 This year's Women in Construction week is all about highlighting women as an essential component of the construction industry. We want to challenge career stereotypes and promote how women lead the way in our industry. To do this we asked the women working at Venn Construction a few questions about their career as commercial construction professionals.
Today we are highlighting Samantha Macias, Assistant Project Manager at Venn.
What is your title and role with Venn Construction (aka – what do you do in a normal month)?
A: Assistant Project Manager – I assist the Project Manager in running the construction projects from beginning to end. Such as assisting with obtaining quotes for missing scopes, issuing subcontracts and change orders, collecting submittals, submitting and following up with the Architect, getting all meeting minutes and documents ready for weekly owner/architect meetings for each project.
What companies have you worked for in the past?
A: BH Drywall & Stucco, Newgaard Mechanical / IMCOR
What got you involved/interested in working in construction?
A: I knew someone hiring at a construction company and accepted the job, so I kind of just fell into it.
What positions have you previously held?
A: I have worked in Purchasing, Accounts Payable, and as a Project Coordinator
What professional associations/organizations do you belong to?
A: I'm not currently involved in any, but I'm looking into several different associations/organizations.
What do you like to do for fun?
A: Happy Hours/ Shopping / Motorcycle Rides with my Husband on his Harley.
What is the best part of your job?
A: The work relationships I get to build with our subs and our superintendents.
What is challenging about your job?
A: Making everyone happy and acquiring materials on time in this day in age.
What interests you about working in the construction field?
A: It's a job and lifestyle that will never die.
What is your advice for other women pursuing a career in construction? 
A: Connect with other women in various roles in construction and related fields. Learn as much as you can, and never stop pushing yourself. Women are typically much more detail-oriented, so use that to your advantage. You also need to come in with pretty thick skin.
How can Venn and other companies attract more women to the construction industry?
A: Promote/marketing for women in the construction industry.