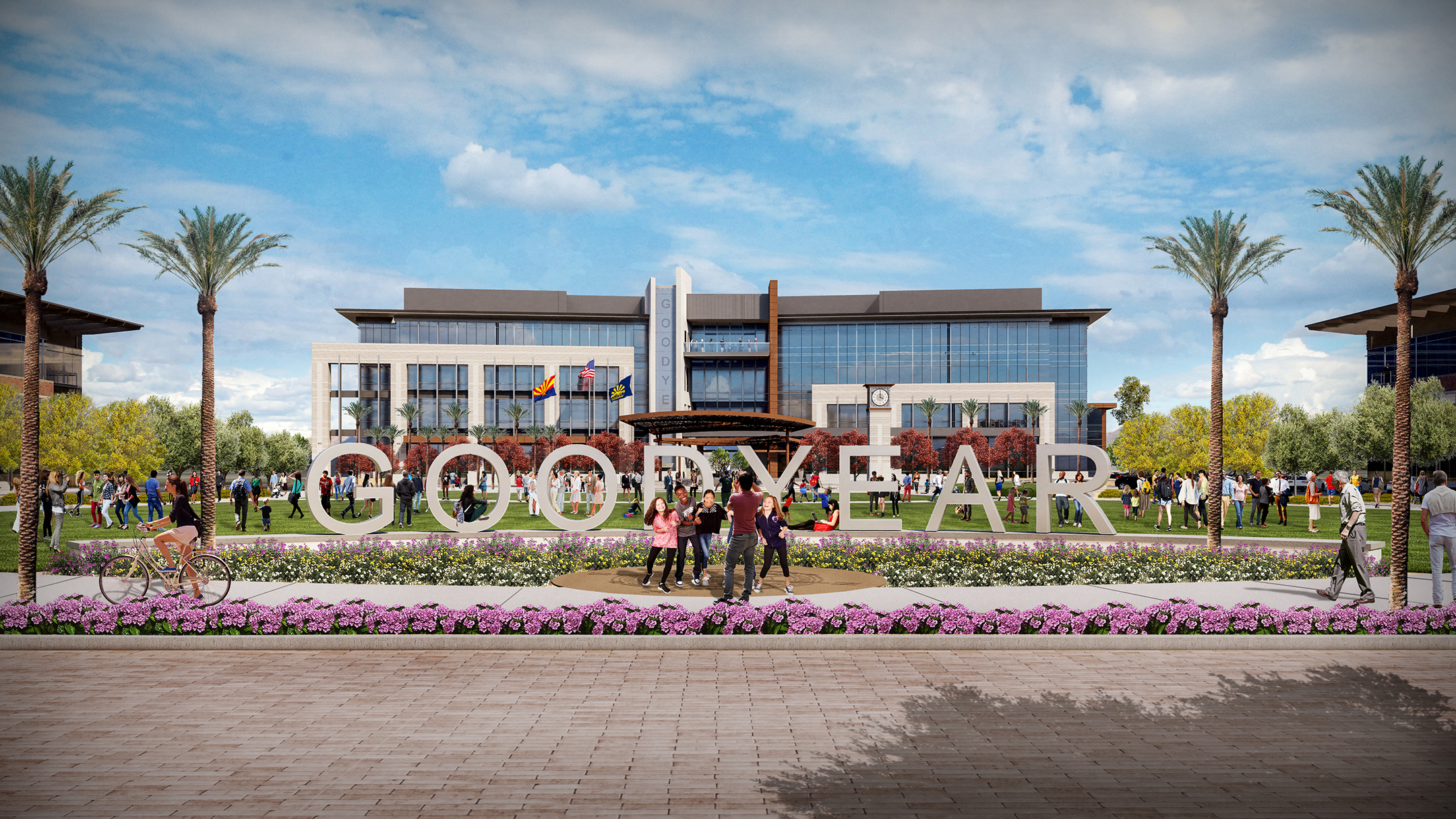 For hundreds of years, the City of Goodyear town square has been at the heart of its community. From arts and culture to shopping to politics and government, the town square represents everything that makes a city unique. It was a place to share ideas, hear music, or settle meetings. But in recent generations, the town square has all but been forgotten. That's why the West Valley's city on the rise, Goodyear, has partnered with Globe Corporation to bring back that traditional town square with its Goodyear Civic Square project.
For nearly 40 years, the city has wanted to bring back this kind of public gathering location, complete with a library, retail shops, and the town hall. Several committees have gathered over the years to provide insight about what they would like to see in a town hall-like project but to no avail. But as Goodyear stands as one of the fastest-growing cities in the Greater Phoenix area, and the country for that matter, the time was right to make a decision on what to include in such a project.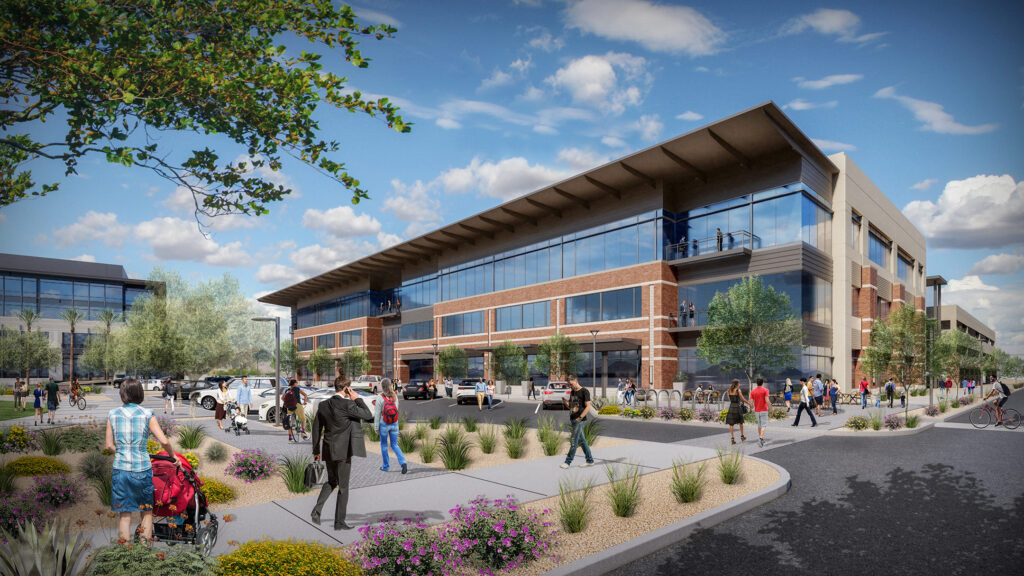 Breaking ground in March, Civic Square will reimagine the time-honored square as a gathering spot as a two-acre park perfect for everything from food trucks to festivals, parades to concerts, while also playing host to the city's new city hall and library. Located on the northwest corner of McDowell Road and 150th Drive, Civic Square will be a place where people and ideas can mingle in a post-COVID world.
"We're creating the heart of Goodyear, a place to gather with friends and family for festivals, concerts, and events, creating a sense of pride and hometown feel for our community. And will be the place where coffee houses, wine bars, and other restaurants and retail uses will want to be – welcome amenities for our residents and office users alike," explains Julie Arendall, City Manager for Goodyear.
The city has been working with Globe to construct two new buildings: a 125,000 square foot, four-story Class A office for the City of Goodyear, which includes its city hall and two-acre civic park. And a 110,000 square foot, three-story Class A office space with a 912-space parking garage. This kind of upscale office space is limited in the West Valley, which is mostly known for its industrial buildings.
For that very reason, Mike Olsen of Globe Corporation wanted to team with the city to create something that would enhance the city's place as a destination for more than just medical buildings and warehousing.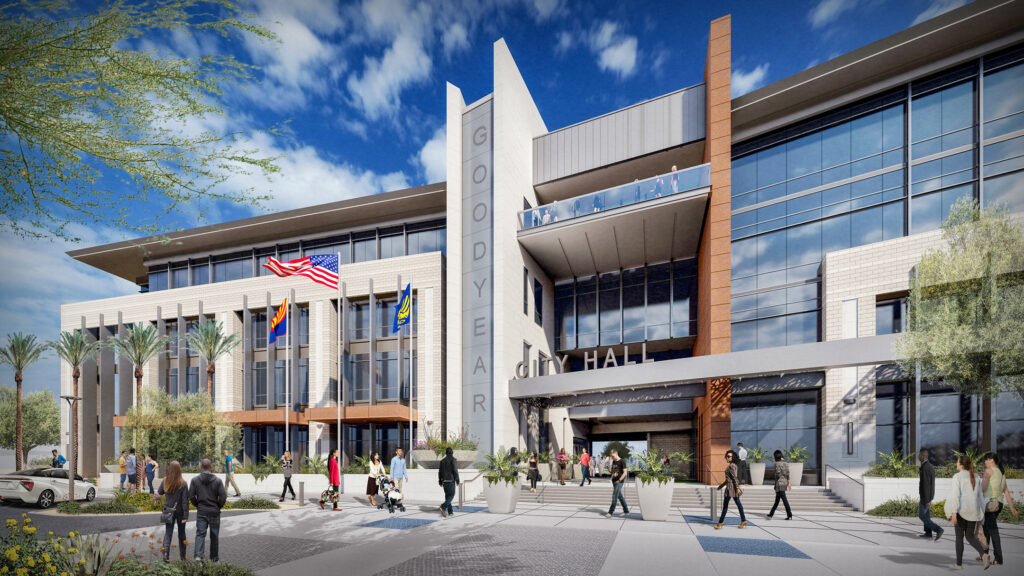 "Normally things like this take twice as long, but the city has been super helpful, and we've moved so fast," notes Globe's Mike Olsen. "This was a joint idea and a team effort. It really is a game-changer, especially with all the retail interests we've had. It's exactly what we're trying to pull off here. There's been huge insatiable demand for spaces like this."
Last February, entities like Globe and Venn Construction, the valley's leader in Class-A contracting, came together for an annual West Valley Class A office meeting. One of the main ideas brought to mind was a focus on mixed-use spaces where people could live, work, play, eat, socialize, and more. Thus, plans for Civic Square grew, highlighting the change in how Class A office spaces are imagined in a multipurpose world.
"We think this is just the beginning," says Arendall. "So far, we have a lot of garden-office and medical buildings, but we are primed to be a corporate headquarters for major companies. We were named the best city for business by the Arizona Chamber for a reason. We're not a community with a city council that isn't sure about growth. We're very aggressive about economic development."
That vision from Arendall and the rest of the Goodyear council has shaped the way it has approached projects, striking while the iron is hot in a city that's seen massive growth, both industrially and residentially. The Civic Square project looks to attract the type of companies that will bring high-quality jobs to the area. The ability to draw in large office users expands the daytime employee base in Goodyear which then opens the door to more partnerships with retail shops, dining, and entertainment.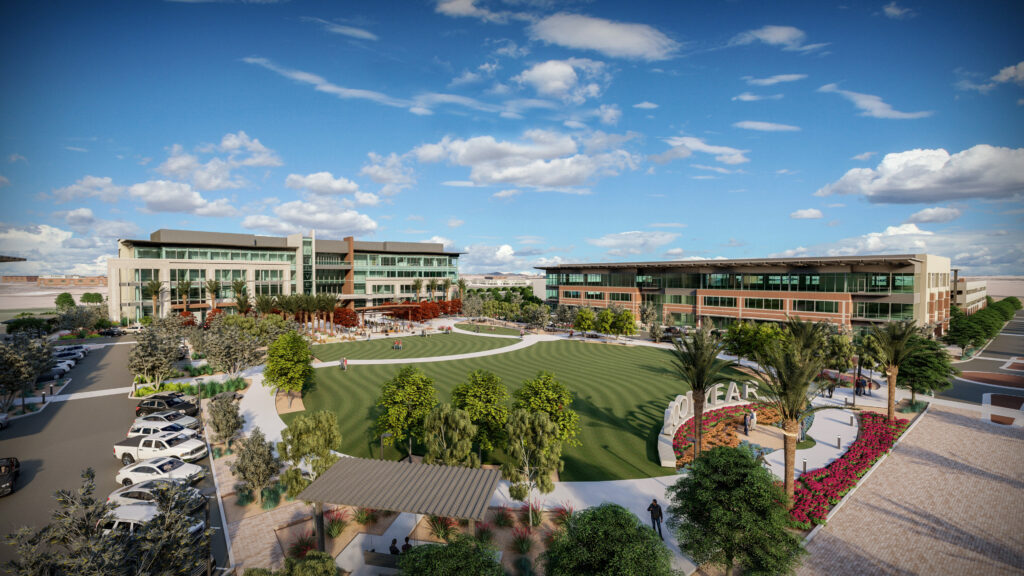 "This is the ideal project with a park in front, improved wash with trails to the side, and then a three-story building that's walkable, breathable. It's perfectly situated, and timed right for the future of offices," adds Arendall.
Expected to be completed by the summer of 2022, Phase 1 of Goodyear Civic Square also features a 20,000-square-foot public library in addition to council chambers and city offices. The library will feature small, personal reading spaces, tech-savvy features, study rooms for tutoring, a children's area, and a larger community meeting room.
Later phases at Civic Square will see the addition of a second office building and parking structure similar to the Globe first-phase building, and two additional buildings for retail and/or office use. The office buildings will face one another across the park, and the retail/office buildings will face City Hall across the park.
Highline Autos– February 2020